Safe Non-Invasive Treatment Effective For All Skin Types
How Fraxel® treatment works wonders
The technology behind Fraxel treatment is as revolutionary as the results* it can deliver. Unlike other laser treatments, Fraxel treatment is able to precisely treat thousands of microscopic areas of skin, using pinpoint laser beams that penetrate beneath the skins surface to eliminate old, damaged skin cells. Fraxel treatment stimulates the body's own natural healing process which replaces damaged skin with fresh glowing healthy skin.
What to expect from your Fraxel® treatment plan
You can expect two levels of results*, immediate and progressive. Immediately after initial healing is complete, the surface of your skin will feel softer, look brighter, and tone will start to become even. Progressive results* occur over the next three to six months as the deeper layers of skin continue to heal.
What are the benefits of Fraxel® treatment?
Fraxel® skin resurfacing treatments help keep you looking and feeling fabulous:
Smoother, fresher looking skin
Improved tone and texture
Reduced wrinkles around the eyes
Improved appearance of acne scars and surgical scars
Has Fraxel® treatment received FDA-clearance?
The Fraxel laser has received FDA-clearance for treatment of the following:
Wrinkles around the eyes (periorbital wrinkles)
Age and sun spots (pigmented lesions)
Brown spots/ Pregnancy mask (melasma)
Acne scars and surgical scars
Skin resurfacing
How many treatments will I need and how will they be spaced?
Everyone's skin is different, but clinical studies suggest that for most people, maximum results* are realized in just 3 to 5 sessions. They are usually spaced 2-6 weeks apart.
Does Fraxel® treatment hurt?
Topical anesthesia is applied before the procedure and cold air is used on the treatment area during the procedure to minimize discomfort. After the treatment, most patients report a feeling similar to having gotten too much sun. It usually disappears after 1 to 3 hours.
*Results may vary from person to person.
About Fraxel 1927 Skin Treatments
What is Fraxel 1927?
Whether you have mild to moderate skin damage, severe skin damage, or you just want prevention and maintenance, there's a treatment for you. The Fraxel is FDA approved and works on all skin types.
The Fraxel 1927 effectively targets:
Unwanted brown spots
Tone
Texture
Superficial signs of aging
This treatment will leave your skin smoother, fresher and younger looking as it repairs the years of damage caused by the sun and natural elements.
Fraxel 1550 Laser Before & After Photos (Below)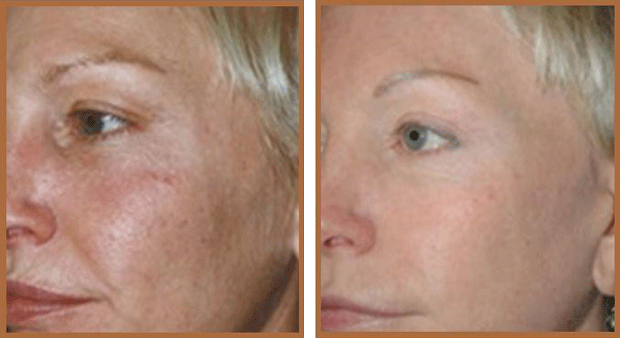 Fraxel 1927 Before & After Photos (Below)
Get all your questions answered. Schedule a complimentary consultation today!
Schedule a consultation
*Results may vary due to a number of factors. During your consultation, Dr. Stompro or Dr. Cheng will discuss the results you can expect.