About Facial Fillers
Facial Filler injections are one of our most common treatments administered by our 5 Aesthetic Injection Nurses. Fillers add volume to areas that lack fullness or where volume has been lost due to aging. By adding filler, certain areas can be lifted, wrinkles smoothed and plumpness added to restore a youthful fullness.
Take a look at this gorgeous glow up by Cynthia Silorio, NP! There are 2 years between these pictures! This patient has been getting Botox, filler and has had 3 Microneedling RF treatments. This is a great example of turning back the clock by addressing fine lines, wrinkles, volume loss and skin texture with the combination of Botox & Fillers with skin treatments. Whether it is esthetician facials, Microneedling or skincare, improving your skin doesn't just help a wrinkle, it helps you shine through your skin.
If you aren't sure which treatments are right for you, schedule a consultation! Our MediSpa has such a wide range of options, products and services that our nurses can impartially recommend whichever treatment is truly the best for your goals.
Facial Fillers (Jump to Sections)
Lip Filler
Under Eye Rejuvenation
Nasolabial folds/Smile lines
Cheeks Filler
Nonsurgical Rhinoplasty
Chin Filler
Jawline Contouring
Lip Filler
For patients looking for more full lips, lip filler is a great option. Our Aesthetic Injectors have an artistic eye for proportional, beautifully shaped lips.
*This patient took a picture immediately after treatment and one picture per day for 1 week to show how lip filler progresses.
Under Eye Rejuvenation
One of the most underrated treatments is a nonsurgical under eye rejuvenation using filler, microneedling or lasers. Under the eyes is one of the areas where skin is thinner, volume loss is more dramatic and gravity starts to take effect to create dark circles, bags or drooping, making us look older.
Using filler to address the volume loss can remedy the appearance of the dark bags and circles, effectively lifting and plumping that area for a youthful fullness. Other treatments such as microneedling can stimulate collagen production to build thicker, stronger skin structure.
Nasolabial folds/Smile lines
The lines from the sides of the nose down to the sides of the mouth, the nasolabial folds, can lose volume over time and show signs of aging. By filling those folds, we restore volume that represents youth.
Cheeks Filler
Full cheeks and high cheekbones are the quintessential symbol of youth. As we age, we lose volume and skin laxity, causing the cheeks to gradually fall. Restoring the volume of the cheeks and contouring the cheekbones is one of the best ways to noninvasively rejuvenate the face
Jawline Contouring
For patients looking for a more defined jawline, contouring using filler may be a good solution. By injecting filler in specific areas of the jawline and chin, we can achieve a stronger, more defined jaw.
Chin Filler
When patients aren't happy with a more square jaw, we recommend filler injections in the chin to create a V shaped look. Our Aesthetic Injectors are trained to listen to you and your goals to contour the chin to your desired look and shape.
Nonsurgical Rhinoplasty
The Injectable Rhinoplasty, or Non-Surgical Rhinoplasty, is a great option for patients looking to temporarily contour their nose.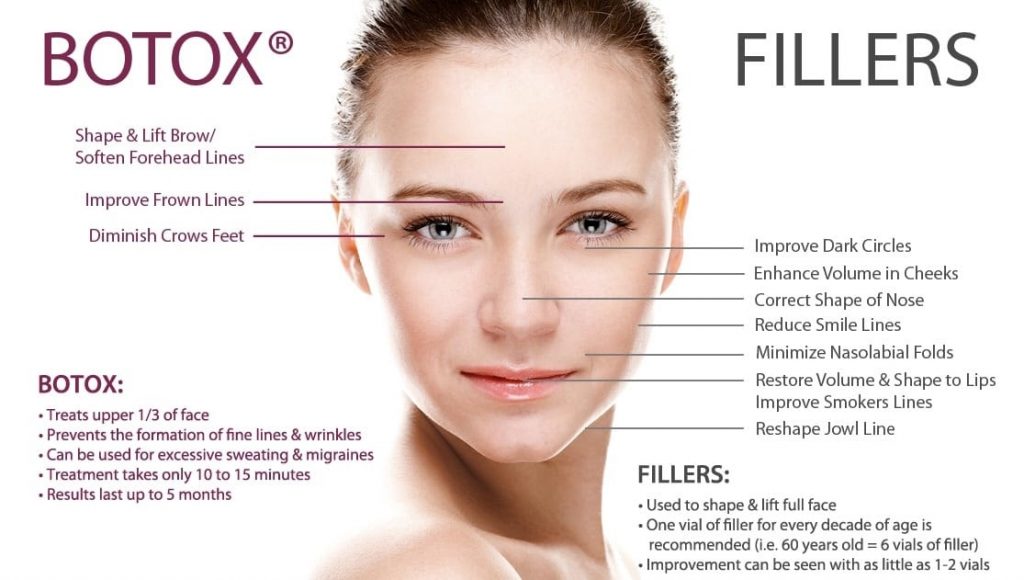 Frequently Asked Questions About Facial Fillers
What areas can facial fillers be used?
What does the procedure entail?
What are the post-treatment instructions?
---
What are facial fillers?
Facial fillers or dermal fillers are gel-like substances often containing Hyaluronic Acid that is injected under the skin in order to restore volume in areas that have lost their youthful fullness. When facial tissues love volume, the skin tends to droop and sag, causing deep lines, wrinkles and sagging in areas around the eyes, nose, nasolabial folds, smile lines, mouth, chin and neck.
What areas can facial fillers be used?
Facial fillers are most popular in the nose and mouth area for lip fillers, nonsurgical rhinoplasty, smile lines and nasolabial folds. Filler can also be used underneath the eyes to improve the appearance of bags or dark circles, in the jawline to improve definition and contour the jaw, and even in the chin to improve the facial profile.
What does the procedure entail?
The process of injectable fillers is quick, easy and comfortable. Our Aesthetic Injectors have been extensively trained and coached to have a soft, gentle touch while delivering a natural, fitting look.
How soon will I see results?
Facial fillers deliver immediate results that can be seen as soon as the product is injected.
How long will fillers last?
Fillers can last anywhere between 6-12 months or longer, depending on individual factors such as where the filler was used, how much was injected and how quickly the body metabolizes the filler material. Depending on these factors, most patients schedule a filler touch up about half way through the estimated window of filler in order to maintain their appearance and extend the longevity of the product.
What are the side effects and post-treatment instructions?
Redness, swelling and bruising are side effects that may occur after filler injections. To avoid serious complications, mostly due to hitting blood vessels or arteries, choose an experienced injection nurse who knows how to avoid adverse side effects.
What is the cost?
Filler is sold by the syringe (1ml) and customized to the individual. Half syringes start at $450 and full syringes start at $600 and up depending on the estimated longevity of the filler being injected. We highly discourage getting lip injections at the cheapest place as lip injections are a serious procedure which requires extensive training and knowledge. It is not worth the risk to go anywhere but highly qualified injectors.
*Results may vary due to a number of factors. During your consultation, Dr. Stompro or Dr. Cheng will discuss the results you can expect.