Juvederm® Ultra, Juvederm™ Ultra XC, and Juvederm® Ultra Plus XC
Reasons for Choosing Dr. Stompro and Dr. Cheng's Medi-Spa for your Juvederm® Injections:
Injection by Registered Nurse Trained by Board Certified Plastic Surgeons
100% Pure Juvederm® Cosmetic
Authentic Allergan Product
Allergan Black Diamond Account (Highest Level – Top 1% in the U.S.)
Safety (FDA Approved)
Immediate Results*
$20 OFF each visit when you sign up for Juvederm Brilliant Distinctions
*Results may vary from person to person.
We work very hard to keep up to date on all the rebates for Botox Cosmetic so we can pass along savings to you.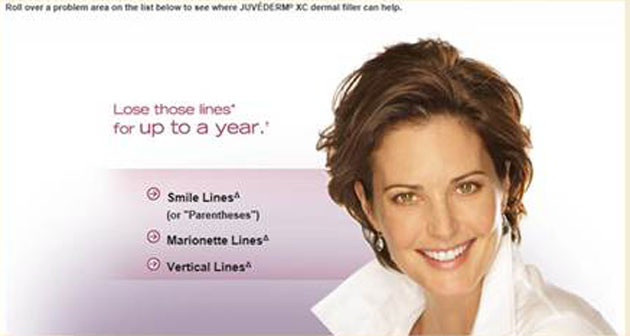 What is Juvederm®XC?
Juvederm®XC is the smooth gel filler that your doctor uses to instantly smooth away wrinkles around your mouth and nose. With just one treatment, you'll get smooth and natural-looking results* that can last up to a year. Juvederm®XC is manufactured using HYLACROSS™ technology, creating a smooth-consistency gel. It is infused with lidocaine to improve comfort during treatment. With Juvederm®XC you get the smooth results* you expect, with the improved comfort you want.
*Results may vary from person to person.
Everyone will notice, but no one will know.
How does Juvederm®XC work?
Young, healthy-looking skin contains an abundance of a naturally hydrating substance called hyaluronic acid (HA). But as you age, sunlight and other factors can reduce the amount of HA in your skin. The lack of HA causes your skin to lose structure and volume. Creating unwanted facial wrinkles and folds—like those parentheses lines around your nose and mouth.
Using a dermal filler like Juvederm®XC is a safe and effective way to replace the HA your skin has lost, bringing back its volume and smoothing away facial wrinkles and folds.
Why Choose Juvederm®XC?
It's safe and effective for different skin types: Juvederm® XC injectable gel is the first FDA-approved hyaluronic acid dermal filler that has proven its safety and effectiveness in persons of color.
It's personalized: One size doesn't fit all when it comes to wrinkles treatment. A customized treatment plan is important for achieving the best results*. For a smooth, comfortable experience combined with long-lasting results*, don't wait—ask your doctor.
*Results may vary from person to person.
Our Cosmetic Injection Specialists specialize in customizing each injection to your needs: Botox Treatments – fine lines and wrinkle reduction, crows feet, glabella and forehead lines, Juvederm – filler of the eyes, face, cheeks, lips & more, Voluma Treatments – mid-face rejuvenation, Restylane – tear troughs, nasal labial folds, marionettes and corner of your mouths.
Call Danville Phone Number925-736-0401 or use our MediSpa contact form to schedule an appointment or to request more information.
Alternatives to Juvederm Hyaluronic Acid Skin Injection Treatment would be Restylane, Sculptra and Voluma.
Get all your questions answered. Schedule a complimentary consultation today!
Schedule a consultation
*Results may vary due to a number of factors. During your consultation, Dr. Stompro or Dr. Cheng will discuss the results you can expect.