Is Liposuction with a Brazilian Butt Lift right for you?
When liposuction removes fat from the body, it can be used to sculpt a more desirable shape in the areas that may need more fullness. Learn more below!
Actual Patient
---
Ultrasonic Liposculpture of the Body with Fat Transfer to Buttocks (commonly known as a "Brazilian Butt Lift" or "BBL") is an effective way to safely eliminate stubborn, disproportionate fat and relocate it to an area that could use more volume.
Ultrasonic Liposculpture of the Body with Fat Transfer to Buttocks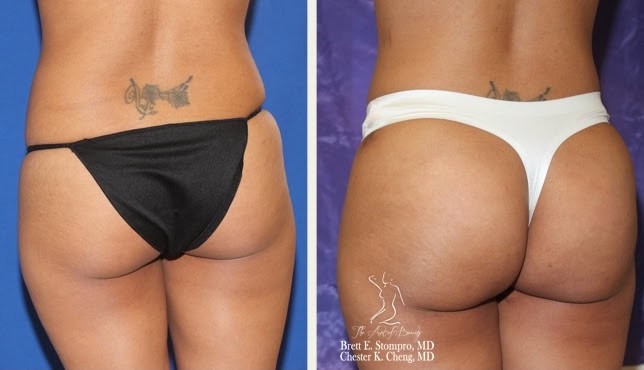 Before After
Patients that undergo this procedure are left with more aesthetically pleasing proportions. Even if you were to gain or lose weight in the years following your surgery, you'll still retain the beautiful proportions for the rest of your life.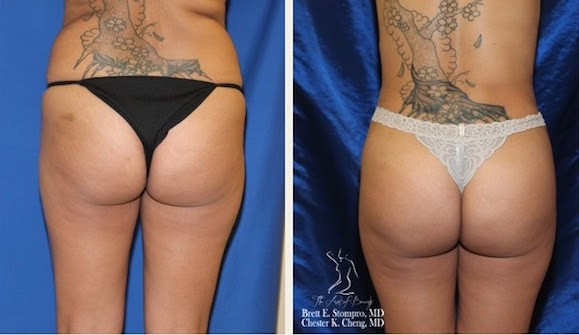 Before After
The liposculpture procedure with BBL is performed through tiny incisions in the natural folds of your body, so your results will be the only thing people notice!
Before After
Who is a candidate?
This procedure is ideal for patients that want to minimize the appearance of stubborn fat in their neck, arms, abdomen, hips, trochanteric area ("saddlebags"), thighs, knees, calves and ankles. The BBL portion of the procedure is ideal for patients that are noticing a lack of fullness in their buttocks, or those who just want additonal curves.
What does the procedure entail?
Your surgery will most likely take place under a light general anesthesia. Your surgeon will make small incisions surrounding the area you wish to treat. Then, a small ultrasonic wand will be placed into your incision. Your surgeon will gently direct the wand to the areas you're treating using a violin motion. The ultrasonic wand will effectively eliminate a portion of your fat cells. Then, these fat cells are removed through the wand via a gentle suction. Once your fat cells are removed, the fat is spun in our centrifuge machine so that only the healthiest, viable fat is used. Then, your fat is gently injected into the areas of your buttocks that have a lack of volume.
What kind of recovery can I expect?
Most patients that have had this procedure are showering at day 2 and driving at day 3 or 4, provided they aren't still taking recovery medications. You will feel some tenderness in the treated areas, and will most likley be wearing compression garments under your clothing for the first 4-6 weeks following your procedure.
---
Surgeons You Can Trust!
Voted Best of the East Bay Plastic Surgeons 2016 & 2017
25+ years in the Bay Area
Board Certified
Call (925) 736-0401 if you have any further questions.